Chania city, in Crete. A wonderful place to visit.

The Symposium Venue:
The Symposium will be held at the Venetian Arsenali building at the Center of Mediterranean Architecture, in the old Venetian Harbor, Chania, Crete, Greece.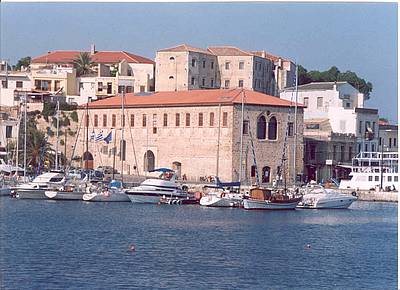 Chania is surrounded by numerous options. Mountain villages, beaches, swimming, fishing, archaeological sites, (such as the Minoan Civilization in Knossos) and gorges are open for you for sightseeing, exploration and discovery.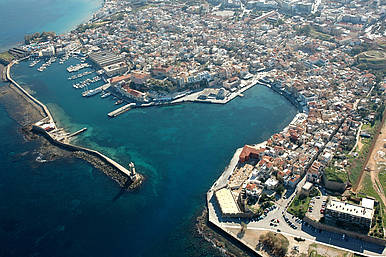 The city of Chania is served by an international airport (I. Daskalogiannis) with scheduled flights year round and abundant charter flights serving much of Europe during April to October.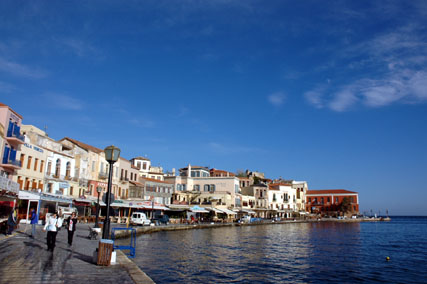 Ferries sail to and from Athens (Pireas) daily. The port is at the Souda Bay, a few kilometers away from downtown.
Transportation:
The city of Chania is located in Crete Island, which is the largest island in Greece. Crete is situated in the Mediterranean Sea at the most southern part of the country.
Getting to Chania by Air
The biggest international airport in Greece is the "Eleftherios Venizelos" in Athens.
Chania is regularly connected by air to this Athens International Airport (http://www.aia.gr ) with flights offered by two local airline companies: Aegean Airlines http://www.aegeanair.com, and Olympic Airlines http://www.olympicairlines.com. Please check their sites for availability of flights. There are also several charter flights from all over Europe directly to Chania during the summer.
The airport of Chania (I. Daskalogiannis, Code CHQ) is located in Akrotiri, about 12 km east of Chania. At the airport there are car rentals and taxis to all destinations of the island.
Taxi service is available outside the airport terminal. The cost of a taxi fare from the airport to Chania is about 15-20 Euro (one-way). You can also call for a taxi: Radio Taxi ERMIS (tel: 2821- 098700, 098770) or Radio Taxi KYDON (tel: 2821- 094300, 087700).
There are very few public buses from the airport to the city, (Daily, at 07:15, 10:30, 19:30. Ticket Price is 2.10 Euro and travel time is about 30 minutes). There are rent car facilities and cash withdrawal and exchange services through ATM at the airport.
Getting to Chania by Boat
Chania has daily sea connections with Piraeus via ferry boats. You can reach Pireaus Port from the Athens airport using the Attiko metro http://www.amel.gr . Take the "BLUE" line train, change at Monastiraki station, and then follow the "GREEN" line up to the terminal station: Piraeus port.
For the boat routes, please check the web sites of the local sea lines to Crete: ANEK to Souda Bay (Chania) http://www.anek.gr, MINOAN to Heraklion city (120 km away from Chania) http://www.minoan.gr, and Hellenic Sea Ways http://www.hellenicseaways.gr to Rethymnon city (50 km away from Chania). Please check their sites for availability of routes. The bay of Souda, that serves as the port of Chania, is located 6 km away from the city center.
Climate:
June normally delivers fine sunny days and moderate-to-hot temperatures. Water is warm enough for swimming. Day time peaks between 23 and 29 degrees Celsius.