Sunday 22 June 2008, 19:00 - 21:00All Symposium participants are invited to the welcome reception. It will be held at the Centre of Mediterranean Architecture which is also the Symposium Venue (location map). The Welcome Reception is free for the Symposium participants. Registration form

Wednesday 25 June, 2008, 20:00 - 23:00Dinner with traditional Cretan dishes and live Greek music.
The cost would be 40.00 € per participant. Accompanying person 25.00 €. Kids are free. Registration form
Samaria Gorge, National Park. Long-Way Excursion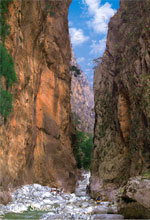 Pickup time from Chania: 06:30 - 07:30 in the morning (approximately)
Departure from Agia Roumeli: 18:30
Return time: 20:00 (approximately)
Price per person: 25.00 €

Price does not include entrance fee to Samaria Gorge (5.00€ per person) and boat ticket from Agia Roumeli to Sougia (6.50 € per person).

Have the experience of walking the famous and beautiful Samaria Gorge, the longest and most beautiful in Europe. The walk will take around 5 hours until you reach the south coast of Crete, a small fishing village called, Agia Roumeli. There, you can have a rest and lunch before you take the boat to Sougia and the return bus to your hotel. Registration form
WHAT TO TAKE WITH YOU ON THIS WALK?
A bottle of water. Do not throw the bottle away. You can refill it during hiking. Good drinking water is available every two to three km along the gorge.
Cream for sun protection (SPF 16 to 25), sunglasses and a hat especially for the last part of the walk, which has very little shade.
Good shoes! These don't have to be hiking boots but you won't be contributing to your enjoyment by wearing tennis shoes or sandals.
Some food (light lunch and fruit juice). There is no food available inside the National Park.
A jumper in case of chilly weather in early morning. It could be cold at 1,200m elevation.
A supply of plasters in case of blisters.
Long-sleeved shirt for people with sensitive skin.
Swim-gear and sandals.
Elafonisi Excursion, An island protected by NATURA
Elafonisi is one of the most rare and beautiful landscapes in all Europe: an extensive beach of unique beauty that overlooks the Libyan sea and an island that you can even walk to! The water is not higher than an adult's knee! Here, we can find a kind of cedar tree and sand lilies that grow nowhere else in Europe. An area of about 2,000 acres of the seaside is protected by "NATURA 2000". All facilities are pretty much underdeveloped (parasols and small canteens), so it would be a good idea to bring along supplies (mostly water). Registration form
Pickup time: 08:00 -08:30 in the morning (approximately)
Return time: 18:00 (approximately)
Price per person: 25.00 €
Knossos Archeological Excursion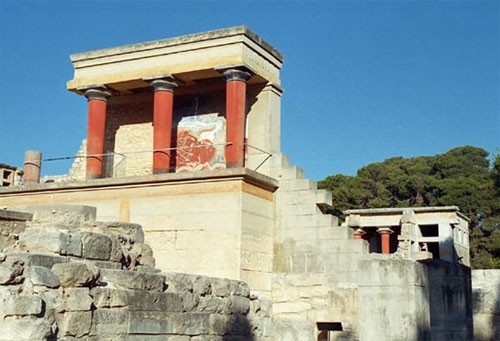 Knossos city was undeniably the capital of Minoan Crete. It is grander, more complex, and more flamboyant than any of the other palaces known to us, and it is located about twenty minutes south of the modern port town of Iraklio.
Knossos was inhabited for several thousand years, beginning with a neolithic settlement sometime in the seventh millennium BC, and was abandoned after its destruction in 1375 BC which marked the end of Minoan civilization. It was destroyed for the first time along with the other Protopalatial palaces around Crete at 1700 BC, probably by a large earthquake or foreign invaders. It was immediately rebuilt to an even more elaborate complex and until its abandonment was damaged several times during earthquakes, invasions, and in 1450 BC by the colossal volcanic eruption of Thera, and the invasion of Mycenaeans who used it as their capital as they ruled the island of Crete until 1375 BC.
Walking through its complex multi-storied buildings one can comprehend why the palace of Knossos was associated with the mythological labyrinth. The Labyrinth was the dwelling of the Minotaur in Greek mythology, and many associate the palace of Knossos with the legend of Theseus killing the Minotaur.
The Greek myth associated with the palace about Theseus and the Minotaur is fascinating, but walking around the ruins of Knossos today it is hard to imagine it to be a place of torment and death. Instead, the palace radiates with joyous exuberance through the elaborate architectural planes and volumes that were clustered around the central courtyard over time. The elegant wall frescoes which decorated the walls speak of a people who approached the subtleties of life and the splendor of nature with a joyous disposition.
We follow up our tour with a visit to the Archaeological Museum in Heraklion. The most magnificent collection of Minoan art and culture in the world, unique in beauty and completeness is housed in the Museum of Iraklion, a modern building specifically designed for this purpose.
There are twenty rooms- galleries on the ground and first floors and the usual visit takes at least two hours but, of course, several days are necessary for the visitor who wishes to linger and study more carefully the exhibits, which cover a period of 5,000 years, from neolithic era to Graeco Roman period.http://www.geomatlab.tuc.gr/images/stories/ggeo2008/social_registration_form_1.pdf

Pickup time: 08:00 -08:30 (approximately)
Return time: 19:00(approximately)
Price per person: 25.00 €.
Importnat Note: Excursions will be cancelled if the number of participants is less than 25. Full refund will be provided, in that case.